One of the best Malaysian restaurants in Sydney is located in a hole-in-the-wall style cafe in Darlinghurst
Jilat Jilat Malaysian Cafe is a Malaysian restaurant in Sydney that brings you back to the smells wafting in from the street vendors of home. Expect wok-tossed noodles with the charred 'wok hei' fragrance. Garry, a Tastyfoodpixels foodie, can confirm. The dishes here are Malaysian, by Malaysians.Indeed, we were warmly greeted by the owners themselves William Tech and Mark Tok, both Malaysians hailing from Malaysia's food haven Penang.Here is a first person narration from Garry.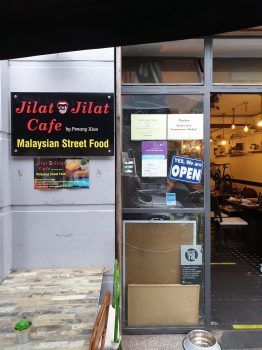 The tastyfoodpixels visited William and Mark as part of the tastyfoodpixels live show series done in support of local businesses, check out the full live show at Jilat Jilat here
Malaysian Food Sydney
For those wondering, 'wok hei' is a Cantonese term. It refers to the unique taste of noodles imparted by the frying of the wok.
Expect Malaysian food as you would find it in the streets in Malaysia. Beef rendang, wrapped by pie pastry, is one of Jilat's specialities. Hokkien Mee, noodles stir-fried in a combination of sauces, are served with passion. The noodles are also served in soup, bringing Penang's favourite prawn mee flavours to Sydney. A great winter's respite, and I am glad Tastyfoodpixels knew about this dish.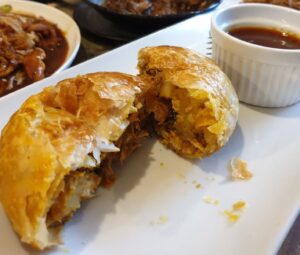 A Penang Food Classic at Jilat Jilat Malaysian Restaurant Sydney 
My recommendation by taste? The oyster omelette. Having been to Penang, and having enjoyed this special classic there, I was very pleasantly surprised to find a Malaysian street food favorite in Sydney. The oysters were plentiful, morsel-sized and wrapped by a tender omelette. 
Durian – A Malaysian Favorite at a Restaurant in Sydney
My recommendation by uniqueness? The Durian-Truffle cheesecake served with ice-cream and biscuit crumb. This dish was a true testament to William & Mark's creativity with cookery and willingness to blend Malaysian food flavours with non-traditional ingredients. It was strong in flavour, as would be expected with any inclusion of durian, but the icecream offset the pungence with its sweetness. The texture of the biscuit crumb topped it off nicely. 
The cafe is run by William and Mark. They are two relaxed Penang natives who enjoy friendly conversation as much as bringing Malaysian street food to Sydney.
From conversation with them, I discovered the depth of their cooking experience. Mark had previously worked as a dessert chef in 5-star hotels, and William had previously run restaurants internationally. It's wonderful to try the food cooked by them.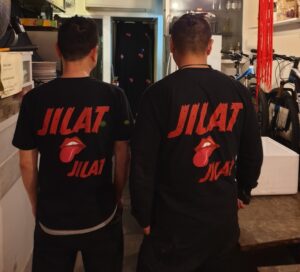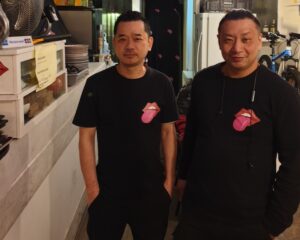 I loved hearing Mark and William's stories of transporting their youthful experiences to Sydney. Their descriptions of Penang's vibrant hawker food scene were well replicated by the authentic nature of Jilat Jilat's environment! A value-add to Sydney's Malaysian food scene.
Vibe
Set in Darlinghurst's leafy suburb, Jilat Jilat Malaysian Cafe is a small venue with a big sense of home and familiarity. Walking in, we were surrounded with the comfortable decor of a chalkboard showcasing the day's special menu. Various home appliances reminded us of a cozy gathering place. 
The tables are close together, so it's by no means a minimalist setting. But in this way, Jilat Jilat tends more towards being a gathering place for friends, family and an organic sense of closeness. 
Verdict
If you're a fan of Asian street food, that's your first reason to visit Jilat Jilat Malaysian Cafe. Other reasons? The intimacy of dining in a small, homely venue. The authenticity of William and Mark's service. The creativity of culinary experience (from oyster omelettes to durian cheesecakes!). 
And if you're Malaysian? The ineffable feeling of being transported back to somewhere just like home.
Tastyfoodpixels thanks Jilat Jilat Malaysian Cafe for inviting us to taste its food.
UPDATE: We are aware Jilat Jilat is currently closed – given how amazing this visit was we will definitely be visiting again and supplementing an updated post on here. Follow them on their facebook to be updated on their re-opening details
Like restaurant reviews like this? Subscribe to our newsletter