One of the best Korean Food Restaurants in Sydney is located in Strathfield
The tastyfoodpixels team dropped by one of the most popular Korean Restaurants in Sydney, Hangang Korean Restaurant as part of our Covid Support Pack series.The Hangang Korean Restaurant is a family run business by the wonderful Mama Park and Gina Park located a short 2 min walk away from Strathfield Station.
Korean cuisine has been receiving a huge uplift in interest thanks to the "Korean Wave" that is currently taking over the world
Korean cuisine is well known for its intense, savory and bold flavours which can be attributed to a combination of spices that have been continuously perfected and passed on for generations including sesame oil, doenjang (fermented bean paste), gochujang (fermented red chili paste) and gochutgaru (pepper flakes) amongst many others.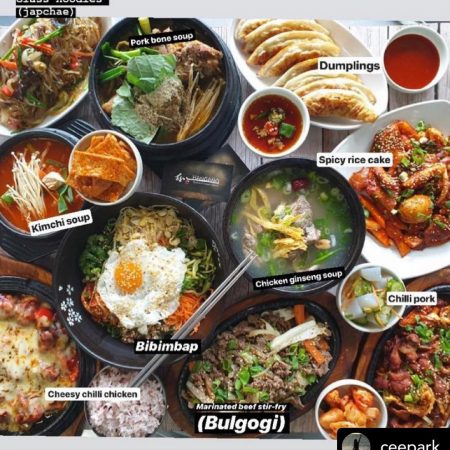 An Authentic Korean Restaurant Experience in Sydney Strathfield
The restaurant is warm and cosy, once we sat down we were served our first dose of food, Banchan, indeed no Korean meal would be complete without this. Banchan (반찬) consists of a collection of a large variety of small side dishes such as stir-fried anchovies, rolled omelettes, chestnut jelly and of course kimchi that can take up much of the dining table's real estate if you're not careful!.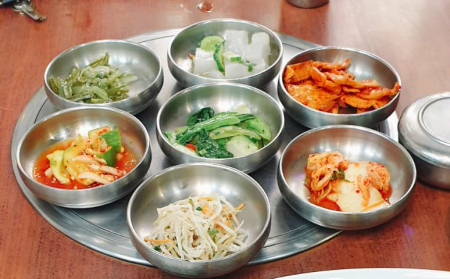 Of course no outing to any Korean restaurant is complete without Bibimbap.
Bibimbap (비빔밥) simply translates to "mixed rice with meat and assorted vegetables" commonly served with gochujang (Korean Chili Paste) sauce. You can make endless variations to this dish in this visit to Hangang we experienced 2 variations –  the traditional and Dolsot (stone) Bibimbap. The stone plate slowly heats up the bibimbap contents making it a must try during the winter season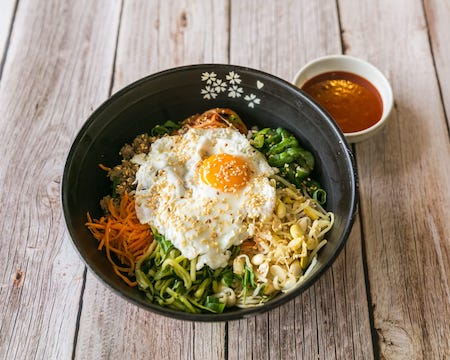 We were also treated to another Korean "food-perience" essential, Korean Chicken Ginseng Soup (삼계탕 – pronounced Samgyetang in Korean), something we highly recommend should you be visiting Hangang Restaurant during the winter season, we believe the picture below speaks for itself.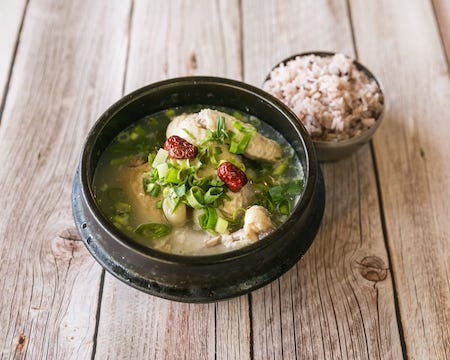 Our Highlight: Pork Belly Korean BBQ at Hangang Korean Restaurant Sydney
We were treated to one of Hangang Restaurant's specialties Pork Belly Kimchi served with Shallot Salad. The spicy crunchy pork belly went remarkably well with the tanginess of the salad.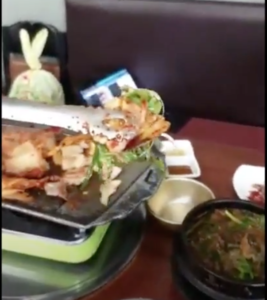 Final Verdict
The ambience, authentic food and high hospitality standard of the waiters, cooks and owners definitely reminded us of our eating experiences at restaurants in Myeongdong and Itaewon.
Located only a short walk away from Strathfield Station this place allows us to experience a little slice of South Korea without travel, something that is of paramount importance now that travel is restricted for the near future.
We cannot recommend this Korean Restaurant enough.
Hangang Korean Restaurant Sydney Delivery Details
They are now open for (limited) walk-ins, pickup and delivery:-
Location (Google Maps) – https://g.page/Hangangstrathfield?share
Address: Raw Square and, Churchill Ave, Strathfield NSW 2135, Australia
Phone: +61451080801
Menu: http://www.facebook.com/hangangkoreanrestaurant