I tried out Café Rumah, a well-known spot for kuih In Sydney located in Surry Hills over the weekend. Kuih as it is commonly called in Malaysia or Indonesia is an umbrella term used to describe a wide array of desserts made predominantly from glutinous rice and sugar more commonly found in the Southeast Asia region.
Kuih – A Malaysian Tradition in Sydney
Since there is quite a large variety I decided to take advantage of their "Pick your Own Kuih Box" Saturdays where you can choose from their selection and make up your own box. I selected kuih lapis (steamed layer cake), kuih talam (pandan and coconut layer cake), pulut inti (sweet glutinous rice with shaved coconut topping) and kuih bakar (Burnt Pandan Custard Cake).
I also decided to continue to practice social distancing and placed my kuih order for delivery. The transaction and delivery was smooth and efficient, my kuih arrived just in time for brunch.
As a Malaysian who has lived overseas for over half of my life I am always in the eternal search for authentic Malaysian food. A lot of the happiness that I feel when I'm eating these foods overseas is often a combination of good taste and nostalgia.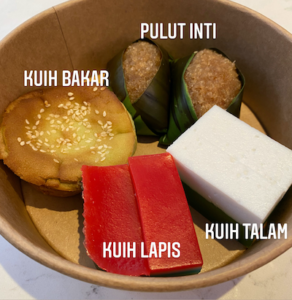 Food Review of Cafe Rumah's Nyonya Style Kuih in Sydney
The kuih lapis tasted authentic without being too sweet, I also had forgotten how much fun it was peeling off the kuih layers one by one while eating it, something I was expertly good at when growing up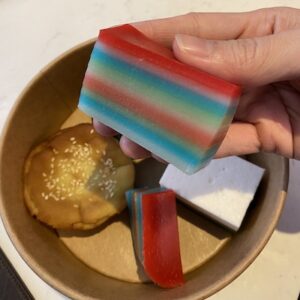 Pandan is one of my top favourite flavours so it was safe to say that while I enjoyed all the selections in my kuih box taste wise my winners were the kuih talam and kuih bakar which were gone pretty quickly upon receiving the delivery.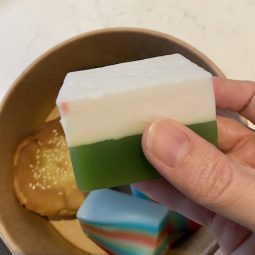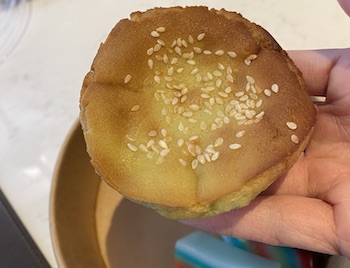 The smell of the Pulut Inti actually reminded me of the night markets (Pasar Malam) back home where you can literally find stalls stacking layer upon layer of kuih goodness, yet another tick on the nostalgia factor.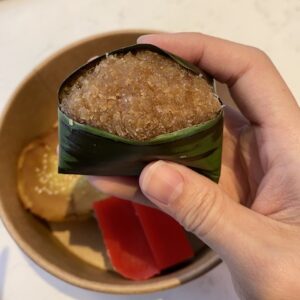 Verdict
Café Rumah's kuih selection definitely ticks the taste, authenticity and nostalgia boxes on my checklist. If you are curious why not give it a try?
Malaysian Kuih Delivery in Sydney