IIKO Mazesoba at Darling Square - Home of the Shiba Inu Mascot
Have you ever associated a cute dog with Japanese noodles? Visit IIKO Mazesoba, a cute Japanese eatery in Sydney's Darling Square, and you'll see how they can be best friends. Garry, a TFP foodie, visited recently.
Michelle Widjaja, the eatery's co-founder, brings her ramen-making experience to create unique dishes. Trained in Osaka in the craft of making perfectly textured ramen noodles, Michelle spotted a gap in Sydney's food scene. Mazesoba, the Japanese term for 'mixed noodles', is a known concept in Tokyo, and Indonesia, but in Sydney? Nowhere to be found, yet. The path was clear for a new taste to be introduced.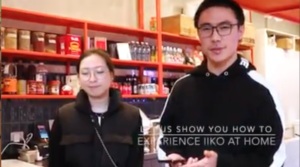 IIKO Mazesoba Food Review
You may know ramen as the noodles served in steaming pork broth. You may know soba as the cold noodles dipped in sauce. But if you hadn't heard of Mazesoba before, you may be excused. This style is action-packed. It's served with delicious toppings and condiments. Expect chashu, spicy pork mince, onsen egg, karage chicken and more. These toppings are then mixed with the noodles, chosen sauces and condiments to create a mouthwatering swirl of flavour.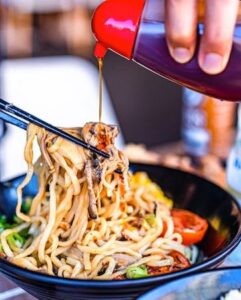 The end result? A bowl of noodles coated with oodles of sauce and laden with vegetable and meat toppings. Tasty as. The noodles are thick, chewy and made from IIKO's machine (which Michelle creatively crowdfunded!). They are fresh and feature in almost every dish on the menu.
Service Quality at IIKO Mazesoba Sydney
IIKO Mazesoba houses its creative cooking in a small space, so the staff are never out of sight, or reach. Michelle, as the head, is personable and treats you like a friend as soon as you walk into her restaurant.
We learnt many interesting facts from talking to Michelle. Did you know that Mazesoba actually originated from a Taiwanese ramen shop owner? We certainly didn't!
Restaurant Vibe & Ambience
Now, revisiting the topic of cute dogs and noodles. When IIKO launched its innovative Mazesoba concept in 2019, they enlisted a local celebrity to help them promote. Flynn, the local Shiba Inu famous on social media, was the main attraction of a launch party in which other dogs were invited.
Since then, the Shiba Inu has been IIKO's icon. You can see the cute dog featured in the restaurant logo, and in a big bright neon sign inside the restaurant. You can even order a t-shirt with the dog logo!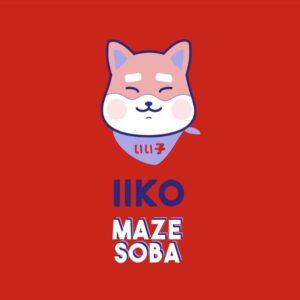 Like the bold personality of the Japanese dog, IIKO innovates in debuting a new kind of ramen. Mazesoba – ramen which you mix with sauce. This boldness and creativity is seen right from the menu, where our tastebuds tingled. Who can honestly say they've seen dishes like: Carbonara Mazesoba or BLT Mazemen? Yes, you read that right. The same BLT which describes the bacon, lettuce and tomato sandwich you eat. You'll have to taste it to know what we're talking about!
If you're looking for a different flavour to try, visit IIKO Mazesoba. Their home-made, thick ramen noodles are irresistably tasty when mixed with toppings and sauces. Depending on which dish you select from their menu, you'll be transported into a realm of texture and flavour you would have unlikely experienced.
Location
– 86 Hay St, Haymarket NSW 2000
– 8 min walk from Central Station
IIKO Mazesoba has recently created a new Family Pack of 6 package and partnered up with Seasons Fruit Market.
This partnership will also donate 10% of the proceedings from the sales to the NSW Food Bank so you can also indulge for a good cause!
You can order here
Enjoy food reviews like these? Subscribe to our newsletter for regular updates!
You can also watch the a summary of the shoot we did at IIKO Mazesoba here
*COVID-19 is hurting restaurants. The team at TFP encourages everyone to stay home. This video was filmed BEFORE the current outbreak in Sydney.​