Sushi Omakase in Sydney – Omakase is a Japanese term which roughly translates to "I'll leave it up to you". "You" meaning the chef. At Sushi Oe, a tiny new Japanese restaurant re-invigorating Sydney's omakase scene, 'leaving it to the chef' was all we could do. The result? An exquisite experience from a sushi master's performance. 
Writes Garry, a TFP foodie.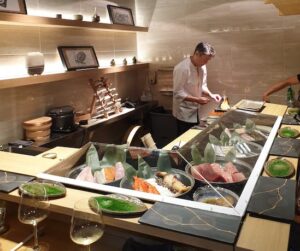 The Sushi Omakase Sydney Food Review
Usually, when a meal has more than twenty courses, you may refrain from eating for the prior two days. Just to y'know, prepare. I would not recommend this. The performance at Sushi Oe doesn't serve to make your belly rounder. It serves to ignite your imagination.
I didn't count the number of dishes served, but they totalled over twenty. It included a gallery of fish, abalone, scallop, oyster, octopus and other oceanic delights that I unfortunately didn't write down (I was distracted by the experience!). I was not familiar with any of these dishes, except 'Otoro', of the fatty tuna fame. But luckily, Narito Iishi, a fish selection master, was there to inform, and with this newfound knowledge, delight. I understood the freshness and variety that would soon be digesting in my stomach.
Tuna Abako, Swordfish, Basa, Imperado – Albacore tuna, Swordfish-belly, Bass Grouper and Imperado. These are but a few names of the raw morsels that Oe-san served. Carving and cutting with a selection of blades, he placed each of them delicately on our plates. Along with each round of fish serving, I was described the name and location of where the fish came from. My brain received as much education as my tastebuds.
The John Dory liver was the highlight. Not exactly for its taste, but for its unique creaminess and texture! I had never known that fish liver could even be eaten.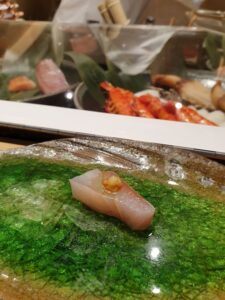 Sushi Oe Omakase - Customer Service
Oe-san, the one-man show of the restaurant bearing his name, displays his ingredients in a see-through cabinet. Whilst dining, you observe his preparation from start to serve. From selecting a fillet of fish, to dexterously manipulating rice to form the base of the nigiri, there was not one process which didn't charm. Our eyes were glued to the magic of sushi-making.
Oe-san was politely conversational throughout the three-hour omakase experience. Whilst cutting, carving, flaming, hand rolling or performing any other cooking action, we were lucky to hear of his previous experiences running the show at Masuya. Having a chef of this calibre entertain us for the night was a lucky experience.
The wait between each course was undeniably, long. This was because Oe-san created each dish from start to finish. From selecting the fish, to slicing it, to massaging the rice from its bamboo shelter, to applying the raw fish on top of the rice. The compensation to our hungriness, of course, was watching the quiet elegance of a sushi-master at work. Our cameras had a busy meal too.
Sushi Oe Restaurant Vibes
Sushi Oe is actually located within another Japanese restaurant, 'Jizakana' in Cammeray. Walking inside Jizakana, you notice the polished floorboards and refined decor immediately. This is a classy restaurant. 
But pulling aside the curtain and entering the small corner space where Sushi Oe is, a new level of refinement is revealed. Arranged in a Japanese minimalist style, there are pieces of sculpture and paintings. There is a L-shaped counter where customers sit and wait for their pieces of sushi to be served. There is Oe-san standing behind the counter, preparing his cooking utensils and sharpening his sashimi-carving blade. 
Having a sushi master as your host and chef for three hours provides two distinct benefits. We learnt insights about food preparation. For example, the exact temperature in which fish must be kept at, and how soon after death they should be consumed for optimal freshness. We also learnt about food sourcing. For example, it was amazing to know the international logistics involved in transporting fish from one country, to Sydney's fish market, to Oe-san's restaurant! 
Sydney's omakase scene is sparse. Whilst it is a well-known Japanese culinary style, perhaps made popular by food blogs all over the internet, Sydney-siders have yet to fully appreciate its appeal. 
Sush Oe is a small establishment in Sydney's North. Its vision, directed by Oe-san, of former Masuya fame, is to bring the gastronomic possibilities of fresh oceanic produce to an Australian appetite. Time to make your booking, start saving and try for yourself.
The Sushi Omakase Experience in Sydney
The sushi omakese experience is well worth a visit. 
Location: 16/450 Miller St, Cammeray NSW 2062
Follow them on their social media
Like reviews like this? Subscribe to our newsletter for regular updates!