Sydney's North Shore has a few yum cha options. But firstly, what is yum cha? Literally meaning to "drink tea" in Cantonese, it's a Chinese form of brunch involving tea & 'dim-sum'. This Sydney Chinese restaurant gives the perfect impression.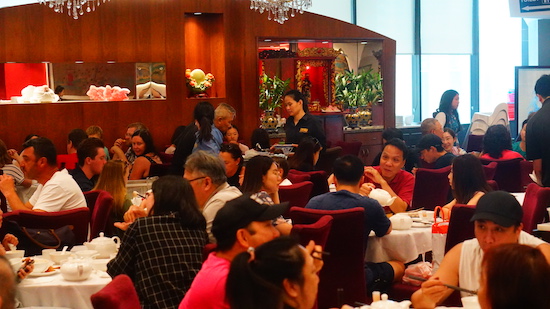 Sydney Yum Cha - King Dynasty Restaurant
With high ceilings, 2 levels, and a vast floor space, King Dynasty is a huge Sydney Chinese restaurant. Not only is it perfect for restaurant hire, it's perfect for gatherings of all sizes. 
When you walk in, you are greeted by a cavernous space of excited eaters from all backgrounds. King Dynasty, being one of the best restaurants for big groups in Sydney, is filled with kids, parents, big family & friend groups. They buzz the air with excited conversation and appreciation for Chinese fusion food. 
What struck us was the MASSIVE screen at the back, showcasing ways of cooking and interviews with different chefs! This is a great illustration of King Dynasty's status in the North Shore yum cha scene. It was surreal eating food whilst watching it being cooked on the big screen. Available for restaurant hire, King Dynasty's function rooms also have screens.
The decor, ornamented with chandeliers and elegant tapestry, gave the restaurant a classy feeling. A romantic Chinese dinner to enjoy your anniversary? If you're looking to celebrate an occasion, this is definitely a Chinese restaurant North of Sydney to look-out for.
What is the yum cha that this Sydney Chinese restaurant serves?
We'll start with dim sum. What is it? They are small portions of food that are served in steamer baskets and small plates. For Sydney dim sim, as well as dim sim found around the world, they are usually found in baskets made of bamboo.
Dim Sum are what you can order from the friendly ladies pushing around trolleys! Here are some examples at King Dynasty to get your mouth watering …
A home for North Shore yum cha enthusiasts
The trolley ladies hawking their carts of dim sums added to the vibrancy. They would come up to each table, announce their wares, and joyously stamp our table card once she successfully convinced us to choose. 
This wasn't much of a challenge given how delicious everything looked. Not only this, if you're looking for Chinese fusion options in Sydney, there are plenty of a la carte options. King Dynasty has both versatility in yum cha selection as well as Chinese dinner offerings. 
Which dish would we recommend? This is difficult to choose. King Dynasty, being a restaurant with private function rooms, has a selection broad enough to satisfy the most well-travelled foodie. Our tastiest four were based on taste and look of the dishes. Despite King Dynasty's status in the Sydney dim sum scene, our favourites were not from bamboo steamer pots. 
They were specialties of the chef showcasing Chinese cooking fused with Western ingredients. The best was the Bitter Melon covered with salty egg yolk. The texture and taste was so unique and memorable! It reminded us of Singapore's famous Salted Fish Skin Chips.
Restaurants for big groups, and big stomachs!
If you're looking for restaurant hire options in Sydney, look no further. King Dynasty has corporate rooms, function rooms and wedding rooms. And that isn't describing the cavernous bottom floor space yet. Companies often look for restaurants with private function rooms. Think Christmas parties or important celebrations! King Dynasty provides bespoke rooms with TV screens and private service. 
With a restaurant capable of seating hundreds, comes a menu that is seriously impressive. All the Yum Cha staples are here. Pork Buns, Siu Mai, Har Gao, the infamously tasty chicken feet … but it is awesome to see their wider offerings. Satisfying a craving for Chinese fusion food is King Dynasty's specialty. The classics, beef tendon, rice noodle rolls and egg tarts were all available.
But you can order dishes A la Carte too! Honey fried prawn cutlet …. Mhmmmmm.
A Sydney dim sum haven, led by an experienced chef
We really appreciated that Head Chef Lee came to our table and chatted with us about his inspiration behind cooking!
He answered our questions enthusiastically, turning to speaking Cantonese to express some more nuanced meanings. Luckily Garry, being from Hong Kong, could translate. If you want to watch our interviews, follow us on Instagram!  
"I want to bring traditional Chinese dishes to Australian shores. Infusing different country's influences in my way of cooking, I want to create a more progressive style of Chinese cuisine."
Chef Lee brings a formidable passion to combining different styles of cooking. With the squid, as pictured, he used Japanese Terriyaki sauce with Sichuan spices. Not only transforming the scene in North Shore yum cha options, King Dynasty seeks to provide the perfect space for Chinese dinner cravings. 
When we asked: "Why Australia?" , Chef Lee spoke of his admiration for the fresh ingredients available. He embraced the challenge and opportunity to create recipes adapted to Western palates! 
If you're looking for North Shore yum cha options, or restaurants with private function rooms, look no further. King Dynasty is a Sydney yum cha haven, one of Sydney's great restaurants for big groups. Keen to find a Sydney Chinese restaurant? I've made my point clear 😉
Yum Cha delivery Sydney - King Dynasty Online