It's clear that Sydney is home to people from many countries. Whilst the city has great living quality, and beautiful beaches, oftentimes there is one thing missing. Remember the beautiful smelling, home-cooked food your parents used to make in your home city? Thai Kee IGA is a wonderfully BIG Asian supermarket in Sydney's Chinatown. You'll find a huge selection of specialty Asian food here. If you can't find it? The store's manager, Alan Trinh, encourages you to tell him! They will source it for you. 
Missing home? Find specialty Asian food at Thai Kee IGA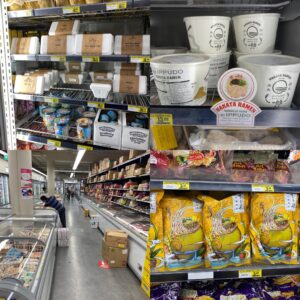 Sydney's Chinatown already has an abundance of restaurants to satisfy your craving for Asian food. But we're not talking about just the generic yum cha or Korean fried chicken when it comes to Thai Kee IGA. We're talking about specialty Asian food that embodies the idea of international cuisine. From sauces your mum may have used back in Vietnam, or snacks that you used to eat as a child in Indonesia, you can expect the unexpected. Thai Kee IGA is simply stacked with authentic international groceries. You might struggle to find your way out!
An example of this is the Instant Noodles aisle which has every single brand and type of instant noodle imaginable including the new snail noodles!
Next to the heart of Sydney's Chinatown
If strolling through Sydney's Chinatown gives you a warm fuzzy feeling of being back at home in the streets of Asia, then being in Thai Kee IGA's wonderland of authentic international groceries will make you happy forever. There are aisles and aisles of specialty Asian food, covering culinary possibilities from Indonesia, Vietnam, Hong Kong, China, Japan … you get the picture. There is even a Chinese medicine specialist and butchery inside!
Knowing that in these extraordinary pandemic times people are staying at home a lot more, Thai Kee IGA has a very long instant noodle aisle. It's filled with flavours and brands from all over Asia. Want to cook up an international cuisine storm? This will be where you muster your ingredients. Your kids will love you.
Thai Kee IGA Restaurant Range - Famous restaurants in a DIY frozen meal!
If you've looked on Google for famous restaurants, you might have come across names like Ho Jiak, Arisun, Chaco Bar and Ippudo. These restaurants are well-known in Sydney for their delicious recipes of traditional national dishes. In hindsight, it's a no-brainer that they would have teamed up with a big Asian supermarket like Thai Kee!
Offering further comfort to people staying #safeathome, these restaurants have packaged up their delicious recipes into DIY frozen meals. These can then be easily prepared, in a manner that even an amateur could do! Located in a tongue-tingling fridge in Thai Kee's supermarket, you'll find these DIY frozen meals like Ippudo's famous ramen, or Arisun's honey soy chicken ready for your collection. Who says you can't enjoy international cuisine from the comfort of home?  Click below to watch our video coverage of the frozen meals range at Thai Kee IGA    
Thai Kee IGA - An even better shop at Paddy's Markets
Paddy's Markets at the bottom of Market City is iconic. Its array of items on sale, from remote controlled gadgets to endless clothing varieties, can acquire hours of your browsing time. If you're hungry after, you can head upstairs to the ground floor and visit Thai Kee IGA. Inside this wonderland of specialty Asian food, there might be more iconic experiences to be had.