Another contender for the best Malaysian Food in Sydney comes in the form of a food truck.The Satay Brothers Food Truck serves an interesting take on Malaysian Street Food in Sydney.
The tastyfoodpixels team visited the owner Jeff as part of the TastyfoodPixels Live Show Series done to support small local businesses during the CoVid pandemic. Check out our full show here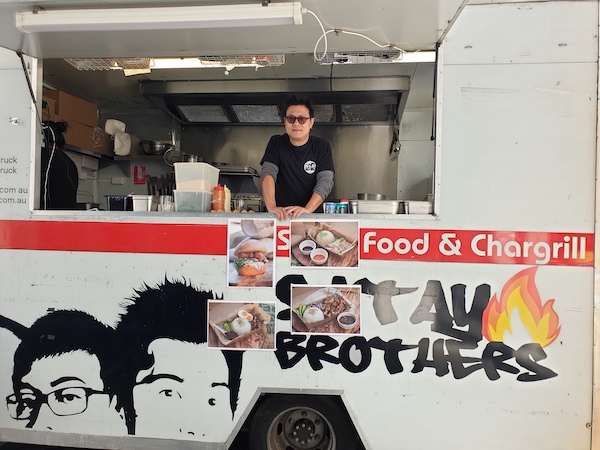 Food represents one of the more important parts of Malaysian culture. Malaysians celebrate, commemorate and bond over food (instead of a pint in Australia).
Malaysian food is also known for it's use of herbs and spices that make the cuisine strong, spicy and aromatic. Despite this is also perhaps one of the more accessible types of cuisine in Australia as evidenced by the large variety of restaurants that popup in searches for "Malaysian Restaurants Sydney". 
In this very competitive space for the best Malaysian food in Sydney, Jeff's food truck approach makes it stand out.
We visited the Satay Brothers Food Truck when they were out at Hairyman Brewery in Caringbah (for the most current schedule of the food truck location check out their website (www.sataybrothers.com.au)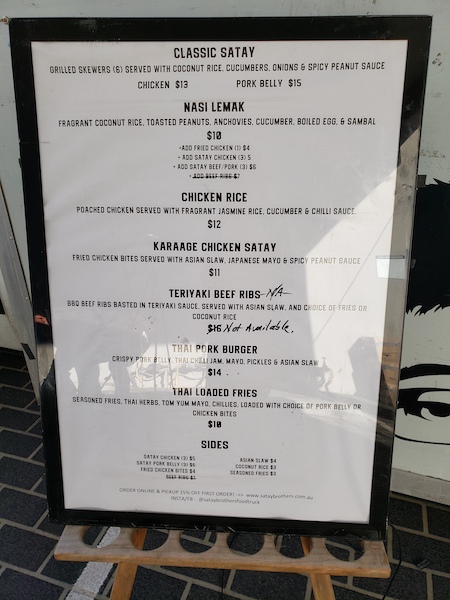 Satay Brothers Malaysian Food Truck Sydney Menu
The menu had some classic Malaysian food like the Nasi Lemak and Chicken Rice whilst serving up some quite unique interpretations of the traditional cuisine such as the Karaage Chicken Satay.  
One of the more interesting aspects of visiting the food truck was also being able to speak with the chef and watch him in action. This reminded us of the night market food scenes in Malaysia.
Added bonus: Conveniently parked near a brewery also made it easy to drop in after for a celebratory pint (or two!)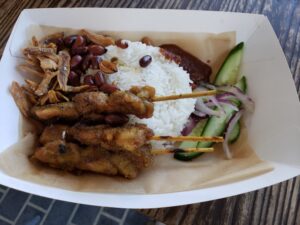 The first dish we tried was the traditional nasi lemak served with chicken skewers on the side, the coconut rice, sambal and the fried dried anchovies and peanuts made for a very authentic experience.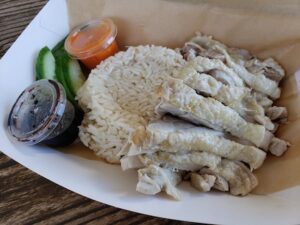 Next up was steamed chicken rice. As with the previous dish you can always tell when the chef has experienced authentic Malaysian food and with this one you can tell by the chili sauce and consistency of the rice and chicken.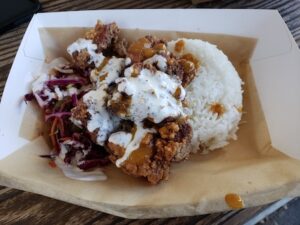 The Malaysian fusion dish we tried was the Karaage Satay chicken served on coconut rice  with lashings of peanut and  coleslaw sauce which perfectly complimented the karaage flavors. This was surprisingly yummy.
Verdict
It was our first to the Satay Brothers Food Truck but it will not be our last. We really enjoyed the authentic Malaysian flavors in the dishes and the friendly customer service.
Satay Brothers Malaysian Food Truck Sydney Order/Pickup Details
Check out where the Satay Brothers Food Truck is this weekend, get 15% off your first order
Location: https://www.sataybrothers.com.au
Phone: +61 426 683 927
Menu: https://www.sataybrothers.com.au/menu
Enjoy reviews like this? Subscribe to our newsletter to receive delicious recommendations in your inbox!